Buying an Established Catering Business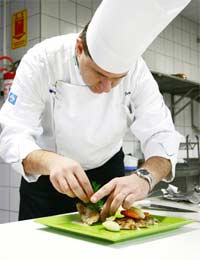 Purchasing an existing catering business could be the ideal venture for someone who wants to hit the ground running with an a business that has a turnover from one day.
Where to Find a Business
Sometimes you will hear through the trade grapevine of a suitable catering business that is for sale. Local newspapers, estate agents and specialist trade publications and websites will show businesses that are for sale. Visit as a client if at all possible and try to find the real reason why the business is for sale. The catering industry can be hard work and it is not unusual for owners to take early retirement due to the long hours and stress. If you are purchasing a restaurant, café, sandwich bar or bistro walk the streets near to the business that is for sale and check out the competition. It could be that a new business nearby has caused a downturn in trade for the business that is for sale and the owner has decided to cut his losses and sell up.
Staff
The chances are that you will be taking on some of the previous owners staff. If you intend to carry on with a similar style of establishment this should not be a problem. Have your legal team check employment law as it is now not possible to sack someone if they are not required. You intend to start afresh with a new catering concept and are simply buying the old business for the premises make it a condition of sale that you do not wish to take on the old staff.
Accounts
Have an accountant go over the books and trading accounts of the business. Compare this against your own business plans to see if the business is viable or if it would be simpler to start a new business from scratch.
Previous Owner
Have your legal team put a covenant in the sale agreement that the seller will not set up a similar building within the vicinity of your business. If you are buying the goodwill of the business which includes a client list then you do not want the clients to follow the previous owner to his new premises. Granted some will not want to work with you and become your customer but you need to start with some assurances that your hard earned money is not being wasted. Ask for dates of when the clients last traded with the seller and check the books of the business for proof. It is not unknown for a seller to fill up a list with his friends and family.
Stock
You will need to see an inventory of all the stock that is included in the sale. Have all equipment checked to make sure it is safe and that all electrical equipment is usable and has been PAT tested.
Vehicles
There may be company vehicles included in the sale. Transfer of ownership needs to be completed with the DVLC as well as road tax details and any service agreements with servicing garages.
Under New Management
Make it clear in advertising and a poster campaign that the business is under new ownership. Send out discount vouchers to old customers and make a splash locally that you are now in business and raring to go.
You might also like...
Very excited to find such concise accesible information. Lifesavers!
annie
- 22-Apr-11 @ 4:28 AM