Temperament For Starting a Business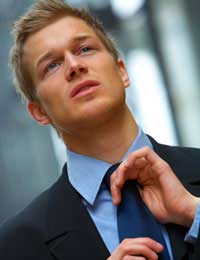 We all dream of starting our own business of being our own boss. There's something alluring about not being answerable to another person, of choosing your own hours and taking a holiday when you choose to and not being controlled by a rota system.
However, do you have the temperament to be a business owner or are you just a dreamer?
Business Plans
It goes without saying that you would have spent many hours pouring over your business plans and deciding exactly what sort of catering business was best for you before actually starting your own business.
You may have the best business brain in town; you may have a knack for costing a contract and finding the best price but what about your stress levels? What are your answers to the following questions?
Would you lay awake at night worrying about the business?
Would you avoid dismissing a member of staff as you hate confrontations?
Would you avoid having a business partner as you could not trust them?
Would you never go on holiday and leave the business in the hands of your staff?
If you have answered yes to any of the above you must consider whether you have the right temperament for starting a business.
Be Prepared
If you are aware that your temperament is not quite a solid as it should be take steps to be prepared for time of stress and conflict.
Staff
Make one of your reliable staff members a supervisor or a manager with their main duties being the hiring, firing and management of staff. Give the person a detailed job outline so that you are relieved of the stress of staff management.
Remember though that you have delegated this responsibility to another person and cannot over rule their decisions as it will make you appear to be very unprofessional to your staff. A weekly meeting with your managers and supervisors will ensure that you are all aware of situations before they escalate.
Money
If you do not have the temperament to control the finances of your business or the thought of collecting overdue money form a client brings you out in a cold sweat you must delegate this task. It is a lot to ask of a mere accounts assistant to control the cash flow of your business completely.
You really need an accountant with hands on control of all monetary aspects of your business or a business partner who can take full responsibility for the accountancy work leaving you to run the parts of the business that you are skilled in.
Paperwork
Sadly you could be the best in your trade but the responsibility of running or starting your own business comes with a lot of paperwork and admin duties. Do you have a wife or husband that could take on this task for you? If not, hire a secretary, personal assistant or bookkeeper who has expertise in running a small business. The outlay of a salary for this type of skilled person is well worth the money.
Decision
If after considering these points you still feel that you do not have the temperament to undertake starting your own business it may be that you are a dreamer and are best suited to hiring your skills to another person or company.
You might also like...