Catering for Meals on Wheels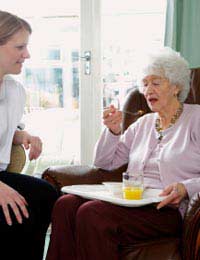 So many people rely on relatives or local council services to supply a hot meal when they are bedridden or unable to shop on a regular basis. With cut backs in services and sometimes not having family nearby means that the housebound person goes without a healthy nutritious meal until help is at hand. Caterers, restaurant and cafe owners can step in and not only help the house bound people in their town but can expand their catering business in the process.
Finding Customers
Although advertising is a good idea it can be costly to run every week. Send leaflets to Age Concern and pop in centres in the area you wish to cover. You local social services may be interested in your business so it is worth making an appointment to discuss your plans and what you can offer.There are many social groups for the older person. Arrange to visit the groups and hold a food tasting session where you can promote your business.Many working people do not have time to cook a healthy meal each day. You could target commuters at railways stations with details of a weekly frozen meal delivery service for weekends or evenings. Another possible market is for people watching their weight. Carefully calories and fat controlled meals could be delivered to clients to help them keep slim and healthy without the bother of cooking. This is ideal for the many people who do not have cooking skills.
Menu
Keep your menu simple and easy to follow. It can be expanded at a later date if you find that your clients are interested in more exotic foods. Plan ahead leaving a menu and booking form with perhaps a choice of three meals each day for the week ahead. A simple tick box system with a receipt attached so that the client has a copy of his or her food plan for the following week. Have the option for the client to order more than one meal per day as they may well have visitors or wish to save another meal for later in the day.
Nutrition
For many people the meal you deliver will be their only source of nutritious food for the day. Include fresh fruit and vegetables. Do not be tempted to offer meats that are served rare, such as steak as this carries a risk of food poisoning. Many of your elderly clients will prefer meat and three vegetables and a simple pudding to follow. This does not mean that food needs to be boring, use your cooking skills to make food inviting and nutritious.
Frozen Food
Some clients may prefer a weekly delivery of frozen meals that can be reheated in an oven or microwave oven. Place reheating instructions on each meal in bold clear lettering that can be read with ease by the client. Try to avoid flimsy disposable plates and bowls that are hard to carry as some clients may not have a strong grip. Perhaps use china plates that can be collected when the next delivery is made.
Delivery
Deliveries have to be on time and arrive hot. If the food needs reheating the instructions must very clearly state that it must be heated completely through in order to kill the bacteria that may cause food poisoning. Deliveries should be made in insulated bags or boxes to ensure that the temperature of the food remains above 63 degrees centigrade and ideally within two hours of being prepared.The vehicle used should be capable of carrying the hot food safely and ideally hold enough deliveries to keep travel to a minimum without the driver needing to return to base to stock up on supplies.
Food Preparation and Storage
Ask your environmental control officer based at your local council office for up to date guidelines on food preparation for caterers and also latest guidelines on chilling food and storing ingredients. Record keeping is an important part of catering and every food item needs to be logged to show the date of purchase and the source of the product.
You might also like...
Thanks this has been very educational. I am ponderingon ideasfor my new business in a new Area. Tn. Kentucky.Mainly. Kentucky.. my mom'sand grand and cousins allwere great cooks... 760 689 0664.How are the cost presented to certain clients.Those on fixed incomes. Thanks. Evangelist Penelope woodson Wilkerson
PeneAnn
- 6-Jun-17 @ 4:26 AM
Hi, I'm in the full time cartering industry now and have been for 15 years but just wondered what other qualifications of need to start up a meals on wheels business apart from the health and safety, food hygiene and intermediate chef qualifications. And also how much do you think you would be looking to earn after say 6 months of successful business. Thankyou
Chris
- 30-Mar-17 @ 11:59 AM