The Village Without Chips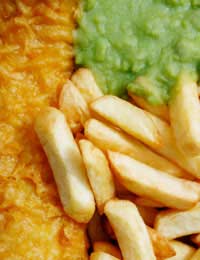 Val James, owner of a quaint teashop in a small country village loved chips as much as the next person and was perturbed when the mobile fish and chip van stopped making its weekly visit.
Tea and Sympathy
"I looked forward to my weekly treat of cod and chips and was very disappointed when the delivery service ceased trading. After a few weeks it became apparent that so did many of the villagers and it soon become a common topic of conversation with my customers when they popped in for a light lunch or afternoon tea. It was Daisy, my one waitress and general help who suggested that I could fill the gap in the market as many of the elderly villagers who couldn't travel into town for their fish and chip supper were going without.
Chips With Everything
I discussed to situation with my husband, Derek as it would mean opening longer hours. We usually closed at 5pm. He spoke to the planning department at our council offices and before too long 'The Copper Kettle' was allowed to open one evening each week to supply take away fish and chips. I was adamant that I would only supply healthy food and so we had the lightest batter on our fresh fish and large chunky chips that were not dripping in fat. We also provided small portions for children and the older customers who could not manage a full meal along with slices of bread and butter and little tubs of piping hot fresh peas. Derek did his bit by delivering to our older customers so that they didn't have to come out on colder nights. As he only delivered in the village it didn't cost much and we were repaid umpteen times with happy customers visiting during the day and stopping for tea and cakes.
Expanding Menu
We were happy to do our one night each week service and Daisy stepped in to help when we wanted a break from the evening shift. It was after our local radio interviewed us that we had more custom from some of the outlying villages and business became busier. We decided to open two nights each week and also have a sit down fish supper night once each month. A local folk group entertained and we were always full. Derek thought we might try a different take away menu and perhaps some specialist evenings – and our curry night was born.
Indian Take Away
Daisy had a hand in this as her son in law was expert in Indian cuisine, he arranged for a friend to come and teach me and Daisy how to cook authentic curries with accompaniments. Granted we had a very limited menu but it was popular. As Derek said, 'If it's Thursday it must be curry for tea!' Since then we have dabble with an Italian night and also opened Sundays for a traditional roast meal. Derek does also deliver this to our older villagers who are not able to get out to dine with us although our next plan is to have a mini bus and collect customers as well as make deliveries. Who would have thought that the demise of the chip van would have increased our business so much?"
You might also like...
compliments, i have learnt alot from this site
emmrays
- 26-Mar-13 @ 10:55 AM