I Started My Own Wedding Catering Business: A Case Study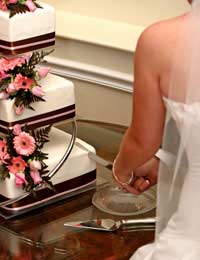 Sometimes, a chance conversation or helping someone out can lead to something big. This was the case for Irene King. One day she was a part time catering assistant in the village school the next she had her own wedding catering business.
Helping Hand
"I had worked in St James' Village School for a number of years, since my children had attended," said Irene. "The hours suited and it provided a little extra money for our holidays and to treat the children. We were a small community and the school only had three teachers so I often helped out by teaching the children to bake buns and fairy cakes. Usually I took charge of the catering for the summer fete and was delighted when one of the teaching assistants married and asked me to make her wedding cake. We displayed photographs of the wedding at the fete as so many people wanted to see the bride in her finery and at the end of that day I'd taken orders for three more cakes!"
Wedding Party
Gradually Irene found herself in demand for cakes for both weddings and children's parties. Her husband Derek was roped in to help with deliveries and when another teacher at the school ask her to supply an evening buffet for 100 wedding guests he joked that it was time to run their own business. "Irene was working all hours and also had her job at the school. She had started to help a caterer from a neighbouring village by making food for their events and delivering it to the caterer where it was sold under their name. I decided it was time that we set up on our own. Irene was worried that it wouldn't work. She was happy to help people out but not to run her own business. We sat down together and I showed her how it would be possible for her to carry on supplying cakes and buffet food and for me to take on the deliveries and the business side of things."
Onwards and Upwards
Irene listened to her husband's idea and quite liked what he had to say. "We decided to start off slowly. I cut back on my hours at the school and Derek cut back on his overtime, that way we still had an income to fall back on if things didn't work out as expected. Derek did some market research on what other caterers supplied and we worked out how and where to run the business. We had a large kitchen and by converting the garage into storage space we had enough workspace to work comfortably for the first two years. Derek was made redundant after two years so we decided to rent a small unit in the village and I left my job at the school. It was a very emotional decision but the right thing to do. Our daughter Julie worked with us and we haven't looked back. By giving good value and service we filled a gap in the market. Not everyone wants fancy Cordon Bleu cooking for their parties and weddings so we didn't even try to go down that route. Instead, good roast dinners and plenty of good quality food made our name and has given us a good living just because of me baking a few cakes!"
You might also like...
Thanks for the article, l wish that l had your courage to start a baking business but l wouldn't know where to start. l have been baking for many many years and have a real passion for it. l wish you all the success.
lulu
- 20-Mar-11 @ 5:32 PM