Accused of Food Poisoning Wedding Guests: A Case Study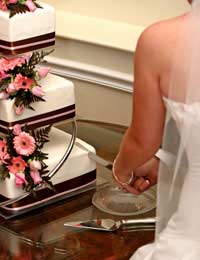 Jenny Jones ran a successful celebration cake company and had gradually built up her business over five years. She enjoyed her work and it fitted in around her family commitments. Her plans for the future included expanding to own a tea room and bakery where she could continue with her love of baking and sugar craft. Everything was going to plan until the day she took a telephone call advising her that fifty wedding guests had gone down with food poisoning after a wedding where she had supplied the wedding cake.
Devastated
'To say I was devastated was an understatement,' said Jenny. 'The cake was a design I had made many times before and it had been ordered by the groom's mother direct from my website. Five tiers of chocolate cake covered in fondant cream and decorated by hand-made pink roses and ivy. I had delivered the cake and set it up myself on one of my specially designed stands. I had even returned in the evening to slice the cake and pack it into individual presentation boxes so no one else had reason to touch it apart from when the bride and groom had the cutting ceremony.
Customer Intimidation
Mrs Gaskill, the groom's mother, told me that all suspicion pointed to my cake as all other food supplied had come from her own restaurant and that was scrupulously clean. She told me that she would make sure I never traded again as some of the guests taken ill included her own business colleagues and the mayor who was a personal friend of her husband. She insisted that I did not supply another cake until the matter had been dealt with and she estimated that this would be in the region of six weeks. I couldn't speak to the woman as I was so distraught. I mumbled that I would get back to her and put the phone down. I rang my husband John and my best friend Debbie who both left work early and came home to support me.
Investigations
While Debbie comforted me and advised me not to cancel the twenty cake orders I had outstanding until we had more proof John telephoned the environmental health department at our council. He came back into the room completely baffled. It seemed that there hadn't been a report of food poisoning at all. Debbie then rang her mother in law who was a receptionist for a doctor in our town. She told Debbie that to her knowledge there hadn't been notification of food poisoning but she would check out the details with colleagues. She rang within minutes to say that there had not been a higher than average food poisoning in the area for weeks and the hospital didn't seem to be aware of any problems either.
Confused and Worried
To say we were confused by Mrs. Gaskill's telephone call was an understatement. Why would she do such a thing? We decided to investigate and Debbie booked a table for the following evening at Mrs Gaskill's restaurant for John and me plus Debbie and her husband Frank. The restaurant hadn't been open long and we had been planning to make a visit so now seems as good a time as any. John felt that by going to Mrs Gaskill's own business we would get a feel as to what the woman was like. I wasn't much help on that score as all our business had been done via my website.
Problem Solved
The following evening we arrived at Chez Dora and found the place almost empty. It seemed Mrs Gaskill wasn't on the premises at that time so we were able to look around as we dined and chat to the waitress. What we found out amazed us all. It seemed that Dora Gaskill intended to branch out into outside catering and includes celebration cakes as well. The waitress showed us a poster that had been printed that very day along with brochures and leaflets and there in a prominent position was my cake – allegedly baked by Dora Gaskill herself. The woman was not only a shrewd business woman but it seemed quite prepared to force other people out of business by any means possible!
Happy Ending
We decided to leave taking the evidence with us and Frank, Debbie's husband, wrote a very strong letter of complaint to Mrs Gaskill whereby she decided against supplying cakes through her business in fact not long afterwards Chez Dora closed for business. It helped that Frank worked in the legal trade and could nip the problem in the bud for me but even so I'm sure that the environmental health office would have been very interested in Dora's misdoings.'
You might also like...
nice study for me. now i know in how to trust a person not even in a business.
jenjen
- 30-Sep-12 @ 4:02 PM