When a Business Split Means a Marriage Split as Well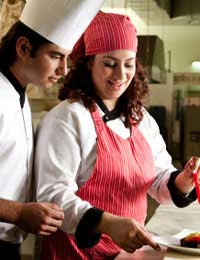 Working with your partner in a business venture can be very rewarding. It can also be business as usual when both fall out of love and divorce. Sue and Steve Simpkins had just this problem after creating a successful catering business. Sue explains how they overcame this big problem in their lives.
Building the Dream
"I met Steve at catering college, on the very first day in fact when we both attended our first class. We clicked at once and were inseparable. After college we worked in the same town and ended up living together within the year. We both shared the dream of owning our own outside catering business and would spend our evenings planning what we would do when we were wealthy enough to pander to our dreams.
Starting Out
One day Steve came home and was acting really weird. He wouldn't settle all evening and in the end I asked him what the problem was. It turned out he had spoken to a financial advisor and had been promised the finance to start our own business, our dream in fact! I was so surprised that I blurted out that I thought he was going to propose marriage, so he did that as well! After our wedding we never stopped, in fact our honeymoon was the only holiday we ever had we were so busy for the next fifteen years.
No Private Life
It was at this time that we started to realise that we no longer had anything in common apart from our business. We never bickered, we were just strangers to each other. We talked work at home as well as during the day. It was when I broke my arm and was stuck at home resting that it hit me. I had no life outside work and Steve was now only a work colleague. It was sad and I did cry quite a lot but when he sat down with me (at a scheduled business meeting) and I told him how I felt he agreed. Strange as it was we both felt a great relief. He moved out of our flat and lived closer to the business.
The Future
Two years on we still see each other every day at work. We both have new partners and have made an effort to take time away from the business in order to work at our relationships. We are now like brother and sister and only have happy memories of our early years. Both our partners get on well together and Steve's new wife also works with us. I'll be taking extended leave soon when my first child is born and we have plans to double the size of the business. When this happens we will both be working at different sites but I know that we have done the right thing and never regretted the early years. Lucky? Yes we both are, but I like to think we dealt with the end of our marriage just like a business arrangement!"
You might also like...