I Turned My Front Parlour Into a Tea Room: A Case Study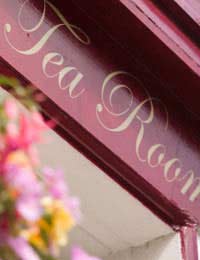 Kate Darling thought that when she bought her thatched cottage in Devon she would spend her time painting the beautiful scenery and learning how to ride but fate had other plans.
Retirement
"Like many other people in their mid fifties my husband Charles and I decided to take early retirement and move to the countryside. Charles could still work part time via a computer link to his office in London and I intended to take up water colour painting which I had been quite good at when younger. I had dreams of perhaps having an exhibition and selling a few to tourists.
Not long after we moved in we went for a walk along the riverside one afternoon planning to stop for tea at Jessie's, a quaint little tea room nearby. I was saddened to see a sign stating that Jessie's would be closing at the end of the month. Jessie told me she was moving north to be near her elderly mother and the tea rooms was being converted into holiday flats by the new owner.
Have a Go
Back home as I cooked dinner I told Charles how sad I was to see such a lovely little business close. It was obviously popular as sometime there wasn't even a seat spare and we would take our tea and sit on the lawn outside enjoying the sun.
Charles watched me closely before saying, 'you know this cottage used to be a tea room fifty years ago?' I was surprised, how did he know that I asked? 'It was in the old deeds when I went to the solicitors to sign the paperwork. It was supposed to be a very posh place apparently. Perhaps we should go to the library and see if they have any information about it?'
Library
The next day our curiosity got the better of us and we popped into town and into the archive section of the library where we were shown several faded sepia photographs of Willow Bank tea rooms. The librarian was very enthusiastic as it seemed his grandfather had proposed to his grandmother in the garden of the tea room just after World War One.
We left with copies of the menu as well as photographs of the tea rooms themselves. We were both quiet in the journey home and pulling up outside the cottage we both looked at each other and agreed we should turn our retirement home back into Willow Bank tea rooms.
Permission
Planning permission was easy as it was reverting back into its original use and with Jessie closing down there was no close competition to worry about. Within a month we had all permission needed and furthermore had bought many of our fixtures and fittings from Jessie at a good price. Armed with the copies of the original recipes I was soon baking, angel cake and coconut slices as light as air and very tasty. The local newspapers were fascinated with the resurrection of Willow Bank tea rooms and gave us a lot of coverage.
Open all Hours
We tend to open all hours in the summer months and shorter hours in the winter time. I still try to paint when I can and in fact the tea room has become my gallery where I exhibit my work. It has sold very well as do my cakes!"
You might also like...