Employee Was Stealing from My Cafe: A Case Study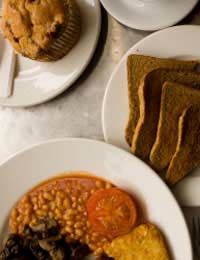 Theft can cripple a small business be it petty pilfering from customers or staff dipping their hands into to till. Catering establishment owners must be vigilant and act fast when there are signs of theft within their business.
Dream Business
Sarah James had saved for five years in order to be able to run her own café. She had purchased empty premises in a small seaside town and moved into the flat upstairs. For three weeks solid she cleaned and decorated the small shop. Tables and chairs were purchased from a second hand supplies company and Sarah sanded and stained them all to match the gleaming woodwork within the premises. The majority of her savings went on new kitchen equipment, as she could not have afforded expensive repairs on older second hand ovens and appliances.
Staff
Sarah had decided to run the café herself and take on seasonal staff if and when she became busy. 'It was early July when I realised that the café was becoming popular. I wanted to attract families and elderly people who could be assured of a good nutritious meal at a price they could afford. I was open six days each week and knew that once the holiday season started properly I would be working alone and for seven days each week. It was time to find some part time staff. I placed an advertisement in the window of the café and within two hours I'd had three enquiries. The young woman I chose showed me impeccable references and as she stepped in and helped me out, as we were busy I took her on at once. I never followed up the references due to lack of time.'
Money
It was after Sarah had taken time off for a family bereavement that she noticed a change in the weekly takings in the café. 'I'd had to travel home for a family funeral and left the café in the capable hands of Laura, she was grateful for the extra hours as she told me she had her student loan to pay off. Upon my return I noticed a young lad hanging around each night when Laura left, they seemed close. Soon he was in the café most days. I felt uncomfortable as his manner was too casual and I felt that he was scaring off my older customers. I knew by then what the weekly takings should be after all I'd cooked the meals so knew that we were selling more and more each week. But, the takings were less and when I compared the cash in the till to the total the machine showed there was a big discrepancy. Every week it was several hundred pounds adrift and I was getting worried.'
Police Officer
'By chance one of my regular elderly customers stopped me in the street to have a chat. I knew him as Mr Jones who came in each week for his steak and kidney pudding but he told me he was in fact a retired police officer. He warned me that the police knew Laura's boyfriend and I should watch his wandering fingers as he had a record of petty theft. I explained my worries and he put me in touch with his ex colleague who set a trap with marked £50 notes. I was worried that I would have to face the thief so 'Jim' as we shall call him came to the café and worked as a waiter for the day. Sure enough at closing time when we cashed up we found that not only was the till down but also the marked notes had gone. Jim confronted Laura and she broke down and confessed that her boyfriend had forced her to take the money that was found in his flat when the police paid a visit. It seemed he had helped himself from the till when Laura turned her back to him.
Magistrates Court
Both Laura and her boyfriend went to court, Laura was let off with a caution but the boyfriend was given a custodial sentence. She had been foolish to be tricked by him but I had lost confidence in her and she left my employ. Luckily Mr Jones introduced me to his daughter who was looking for work so I had no need to worry about staff again.'
You might also like...