My Home Cake Baking Business: A Case Study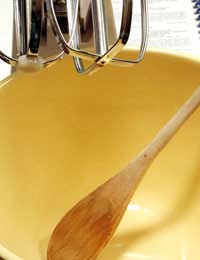 Jane Scott loved baking cakes and pies and it wasn't until a few of her friends asked her to make a cake for them that she hit upon the idea of starting her own small business from home.
Helping Friends
"I loved to bake pies and tarts for my family meals and when one of my children had a birthday I designed a soldier's fort cake and each child had a canon with their name iced upon it to take home.
My children's friends all wanted one for their own parties and very soon I was making pirate ships, space ships and robots and personalising them for their guests. It was at a coffee morning organised by the mums for charity that one of the ladies asked if my cake baking was a business and if not why?
I hadn't given it a thought to be honest as once my youngest child Sarah was at school I had planned to return part time to my job as an accounts clerk. Speaking to my husband that night he suggested that I tried it as a small business and if it wasn't profitable or if I didn't like the pressure I could still return to work in six months time. I had nothing to lose.
Enquiries
Where to begin? Well, I contacted a local small business support group and asked what I should do to start up. I attended a one day course for business start up and met a local bank manager who advised about keeping accounts and notifying the tax man of my business. Also I studied and passed my health and hygiene certificate which is a necessity for working with food.
My husband knew a little about marketing and advertising so we used his computer and Internet connection to set up a small website and placed the photographs of the cakes I'd made for friends along with the testimonials they kindly gave me.
Prices
I was embarrassed to ask for money when I baked cakes for my friends but they had always given me something in return. Now I had not only to price the cakes correctly but to make a profit. Again my husband's computer came in handy as he set up a spreadsheet where I listed the ingredients for each cake, along with the prices. We agreed a profit percentage that also included a contribution towards the electricity for my oven. I was startled as to the price but my friend Sue dragged me off to town and showed me the cakes in the bakery shops – they were three times what I had expected to charge and the cakes were not as elaborate as mine if I say so myself!
Advertising
We placed some adverts in local newspapers and also had postcards made. My friends were really great and handed them to all their family and friends and slowly the orders arrived. My first order was for one hundred cupcakes set on a tower for a golden wedding anniversary. It went down a storm and I had three other orders from guests at the party. I learned early on to leave business cards when I delivered the cakes and that way my name was spread around.
Presently
My youngest child is now at school and I am able to build my cake baking business. I hire a kitchen from a restaurant that closed down and now make pies and casseroles for busy families as well as the cakes. Two of my best friends work with me and I have a small van to make deliveries. Who would have thought that one fort shaped cake could turn me into a business woman?"
You might also like...
This is an inspiring story Jane - I too want to open my own cake making and decorating business but I'm stuck at the moment. I got my Level 2 in Food hygiene, but apparently I should have my kitchen inspected and approved at least 28 days before actually starting the business - and although my kitchen is spotless clean it is not appropriate for food manufacturing as whoever gets in or out of the house must pass through it.weird, I know.the only way would be to rent a kitchen but this is expensive and it would take take some time to properly launch the business and afford to pay a rent for a proper catering kitchen. I'm pretty down at the moment but I'm not giving up. I'll find a way.
Ella
- 25-Jun-12 @ 9:41 PM
Thanks for the info.Any ideas about how to package a cake to send in the post?
Vegan Cakes
- 18-Apr-11 @ 11:49 AM