Running a Seaside Cafe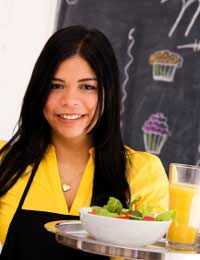 These days a seaside café must offer more than chips and tea served in cracked mugs if they wish to entice paying clientele into their premises.
Chips with Everything
The image of a seaside café is of fish and chips washed down with large mugs of hot sweet tea. For a business to survive and even expand it needs to be forward thinking and appeal to the type of customer that will enjoy entering the establishment and spending money.
Close Competition
Take time to carry out market research on your perfect customer. Look at other food businesses in the vicinity of your cafe and ask yourself what do they have that you don't? Who is eating there rather than in your business? Ask family and friends to act as 'secret customers' and check out the quality of other eateries in the area. Chat to your regular customers and find out if there is anything they would prefer to see on your menu or in your café.
Healthy Eating
Do not be blinkered by thoughts of 'the good old days' when planning your menu. Parents want their children to eat fresh healthy food rather than burgers and fries. Be aware of eating initiatives on television or in schools local to your business and cop the new trends.
A Pleasing Interior
Try to brighten up your premises, wipe clean surfaces are very practical but place some flowers on each table or some candles to add a personal touch. Are there any local artists that would display their work on your walls? You could help them sell their work on commission and your café would become a talking point with customers.
Old Folk and Children
Never forget the older customer and also younger children, as they are a big part of your clientele. Advertise smaller portions and child-sized meals along with a heating service for bottles and baby food. Why not have a 'happy hour' on a day when business is quiet and offer cheaper meals for pensioners? This will increase business and tempt new customers to eat on other days as well.
Take Away
Is your cafe close to a beach or a park? Sandwiches and salads made fresh while the customer waits along with hot and cold drinks will mean that customers can enjoy your food while at leisure. Flyers handed out to passers by can tell of your service and special meal deals.
Late Night Trade
Many seaside towns have a theatre or picture house. By staying open in the early evening your café could take on a bistro effect and offer a meal to diners before they go to the theatre.
Groups and Meetings
A constant problem with social groups and clubs is the lack of meeting places. By offering your premises to local poetry groups, folk clubs and writers groups etc you will attract new clientele who will come back to dine on other days and also spend money on the supper and refreshments you provided at the meetings. Your business will benefit from being mentioned in the local press and on radio whenever the group advertises its meetings.
You might also like...