Catering for Restaurants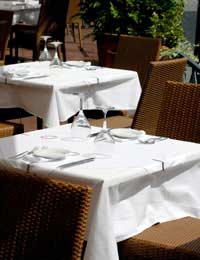 Your catering plans may include running a restaurant or just supplying food to restaurants but whatever your catering plans are ensure that you have done your research before spending any of your hard earned money.
Specialise
If you intend to specialise in a certain area of catering carry out intensive research before purchasing a restaurant or empty building. Take to the high street with a clip board and ask the public if they would like a restaurant with your speciality in their area.
Check to see if there has been a business like yours in the area in the past. It may be that it closed due to lack of interest. If the menu is too specialised it just may not appeal to the locals and would be better sited in a larger town or city.
Supply Instead
Have you considered supplying food to local restaurants rather than setting up your own cafe or restaurant? By working from a kitchen and supplying food you can cover all forms of outside catering without having to maintain a restaurant or paying waiting staff. You can employ cooking staff when you are at your busiest and delivery staff on a part time basis.
Experiment
If you decide to work from a professional kitchen rather than a restaurant keep your options open as to what form of catering services you want to provide. You could supply ready-made meals direct to other catering establishments or direct to the public. Professional kitchens are very hard to locate, it may be that you have to purchase or hire an industrial unit and fit it out yourself with catering equipment.
Weddings & Functions
By running a catering kitchen and supplying restaurants directly you will also be able to provide a wedding and corporate function service. As long as you have the staff and the time you can carry out all forms of catering services until you find the one that earns you the most money and that you enjoy developing them most.
Cakes & Pies
It may be that you would prefer to specialise in what food you supply to restaurants and other businesses. Some people will specialise their catering services into supplying custom designed celebration cakes or freshly made pies.
Promote Your Name
Whatever catering services you decide to provide make sure that you have a catchy name and logo that can be used and easily recognised by the public and by the people you intend to sell your wares to. If you are providing ready meals to restaurants and cafes have your logo printed on the napkins and serving plates.
Have your delivery vehicle's sign written and your staff wearing aprons or shorts with your company name. This amounts to free advertising and is important to the growth of your business. Look out for catering exhibitions and hire a stand. You will need to get your name known in order to attract customers.
The Law
Whatever type of catering service you decide to provide you must register with your local council as a food provider and be prepared for inspections. Your food delivery vehicles must also be scrupulously clean and ready for inspection at any time.
You might also like...