Catering in a Guest House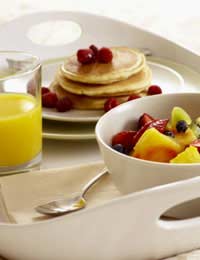 With more people than ever holidaying in the UK the old fashioned guest house is facing a resurgence of interest with holidaymakers.
Old Days
Sometimes it is hard to move away from the image of a guest house as somewhere damp and dreary where a greasy breakfast is served to guests before they are kicked out into the street and not allowed in until later in the day. These days the owners of such establishments must create a warm welcoming home from home where the guest is the most important person and not the landlady.
Bed and Breakfast
Offering bed and breakfast is the most basic of requirements. Add en suite facilities, tea making facilities and a television to the room and there is a vast improvement. But it is the food and dining room experience that can most lift the guest house to another level which will lure new custom and increase the turnover of the business. Breakfast to a certain extent can be self service but the guest needs to be shown where to find the cereal, croissants, juice and fresh fruit. If all is neatly displayed on a handy sideboard guests can help themselves whilst their pot of tea or coffee is being freshly brewed. Rather than place a plate of hot food in front of the guest ask what they require. Not only will food wastage be avoided but the guest will have their favoured food served in small or large portions as required.
Evening Meal
Offering an evening meal at an optional charge can be helpful to guests who either cannot afford to eat in restaurants each night or wish to spend the evening in the guest house. Presenting a menu at breakfast for pre ordering can mean that the guest house owner can plan ahead when preparing the meal.
Varied Menu
Offer a varied menu for both breakfast and evening meals rather than 'if it's Monday it must be cottage pie.' So many guest houses present the same meal week in week out. It becomes boring and is too predictable. Have specialist nights with curry evenings or fish meals. A second choice can help those guests who are not keen on the themed meal. Advertise these special menus to guests at the beginning of the week so they are able to plan their holiday.
Restaurant
By turning your dining room into a restaurant that is open to the public at weekends there is the opportunity to increase the turnover of the guest house. Research other options locally to see if this is viable.
Licensed Premises
Offering alcohol can be beneficial to those guests wishing to drink with their meals. If it is possible to have a small bar separate to the dining rooms then outside guests can be accommodated. If this is available to restaurant guests the guest house owner will be able to offer the full dining out experience.
Tourist Board Ratings
Get ahead of other guest houses by improving your tourist board ratings. Contact the tourist board for your county or resort and arrange a meeting where you can ask for advice on how to improve your business and add stars to your rating. Use this when promoting your business.
Website
Everyone needs a website these days and the guest house owner is no exception. Not only will a website bring in business from people who surf the Internet but will give regular guests more news and information in advance of their visit.
You might also like...