Catering for a Transport Cafe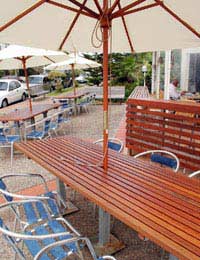 When deciding to purchase a transport cafe one should never think of the image of dusty car parks and greasy spoons establishments. In the days when people are becoming tired of motorway service stations the transport, or roadside cafe, is a haven away from self service burger bars and piped music that are becoming so prevalent on our motorways.
Overnight Parking
The joy of transport cafes is that they have the facilities for overnight parking. This will not only attract lorry and van drivers but also the family visitors with their caravans and mobile homes.
Not all holiday travellers want to cook their own food and if your transport cafe was to open early and close late you would see many grateful visitors.
Food
Although one would argue that the all day breakfast is very popular there is also a need for good quality reasonable priced food that has been freshly cooked and where the vegetables do not come out of tins. When planning the catering for such an establishment try to have a unique selling point (USP) of catering that would be seen in a better class of cafe. Source your catering supplies locally and advertise this to the passing trade.
Instead of plastic seats and disposable tablecloths invest in wooden seating and cheerful table clothes and curtaining. Make the cafe a home from home and customers will flock not only from passing travellers but locals as well. If your catering services include the all day breakfast make it a healthy one with organic sausages and free range eggs.
Quiet times
Your transport cafe could well be on the road to a resort or two and experience quiet days or times of the year when business is slack. Turn the cafe into a better class of establishment with low lights and live music from a local musician to entice local diners into your catering establishment. Perhaps link up with a folk club or have a regular comedy night so that you attract a regular audience from another part of the community.
Children
Try to cater for young children with a tasty healthy menu plus special child seats, high chairs and nappy changing and feeding areas. A safe play area both inside and outside would encourage parents to make a stop on their journeys rather than go to the larger motorway service stations. Catering for children is a good selling point as it pleases the parents.
Afternoon Tea
If mid afternoon is a quiet time try serving tea and cakes with a discount for the older person. It is another part of the community that you could encourage to visit and once they see your well cooked food they are bound to return at other times.
Bad Press
Transport cafes seem to attract bad press so if this happens to your catering business do not sink into despondency but use the negative aspects to build your success and learn from the bad feedback. With a little initiative and planning your transport cafe could be a lucrative catering business with a twenty four hour clientele.
You might also like...