Catering for Bars & Pubs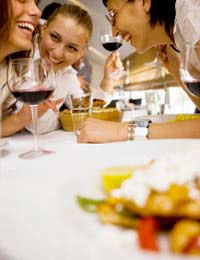 When you have started your catering business remember to always be on the lookout for ways to increase your turnover. One way to do this is to cater for pubs and bars.
When supplying catering services the business person should not be blinkered with their attitude to their business and always sources different ways to increase their catering services.
Research
Take time to research public houses and bars that lie within several miles of your catering base. Do they supply a lunchtime or evening menu? What is it like? Many pubs and bars are now watching their overheads and this includes catering staff.
They may well find that the cost of employing a chef or cook far outweighs their revenue from food and have stopped food service. By approaching these businesses and offering your own company's catering services you will not only profit but bring in more trade for your main business.
Business Plan
Approach the owner or manager of the public house when he isn't rushed off his feet and sound him out. Any business idea where he can make a profit without too much extra work should be an interesting proposition. Explain who you are and where you are based and explain how you could supply fresh cooked food each day to his bar.
All that would be required was for his staff to do would be to heat the individual dishes and serve them. You would collect the empty dished the next day when you return with more fresh food.
Fresh
Emphasise the freshness of the meals and possibly use only organic foods that would appeal to families thus expanding his own trade to include the family rather than lone drinkers.
Workers
If the pub or bar is in a business district the introduction of food could be another way to lure extra trade into the public house. Put these ideas to the owner of the establishment to encourage him to take up your offer.
Profit & Contracts
Make sure you have an outline of the profits available to the bar owner if he was to take on your catering services. Also make an agreement as to when your bill should be paid. Perhaps leave a weekly invoice for meals supplied at the end of each week – or on the Monday morning for the previous week's sales when you make the next delivery.
Equipment
If the meals are supplied in individual dishes then your only outlay would be the dishes from your wholesalers. Perhaps consider having the dishes printed with your business name – advertising your business should be relentless! Apart from the dishes cool boxes or bags are the only other items needed apart from transportation.
Special Menu
Suggest to the owners of the pubs that they have a curry night or pie 'n' mash night once each week to attract the evening trade. You could make a package whereby you either supply the curry or the food and someone to serve it.
Special Offer
Offer the owners of the public houses and bars a special sample deal to promote your catering service. Supply a few posters for their windows so that the customers are aware that food will be on offer either one evening or lunchtime. Supply a certain number of meals at a reduced price and be at hand yourself this one time to see that all runs smoothly.
What to Serve
Do not be too adventurous to begin with; a choice of five meals, making sure one at least is vegetarian will suffice. Cottage pie, curry, hotpot, lasagne are sure favourites and perhaps several sizes of dishes so that children or those with smaller appetites are catered for. You could then move on to hot desserts or more adventurous menus as sales increase.
Preparation
The preparation of the meals at your catering establishment could be done whilst you are preparing your other menus so that you need not increase staff numbers or hours. If you are an event caterer such as weddings or parties it could be that catering for the pubs and bars during weekdays fills a quiet time in your schedule.
You might also like...