Catering for Bistros and Wine Bars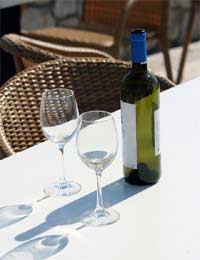 When running a catering business consider approaching wine bars and bistros to see if they would be interested in hiring your catering services to supply quality food to their customers.
Locality
Look at the number of independent wine bars and bistros in area surrounding your catering business. Many people who set up these types of businesses are adept at running an establishment geared towards alcohol.
However they may not have the expertise that you have for catering. Your own area is a good place to start when expanding out into supplying food to wine bars and bistros.
Research
Visit the businesses in your area and see what food they offer to their customers. Can you improve on this? Can you supply a fresh healthy version of the meals they serve? Take notes when visiting the establishments and consider what you could offer them on a daily basis. Do be discreet otherwise your business plan will be thwarted before it starts.
Design
Design a menu around the theme of the wine bar or bistro and calculate the costs of supplying daily fresh meals that can be easily served in their establishments without them having too much staff overheads. You should be offering them a way to increase their turnover without too much extra staff costs.
Plan
Approach the owner when he is not busy and give him a clear plan of how you could deliver fresh appealing food each day that would increase his customer base and give him extra profit. Agree on when the meals should be delivered whether they should be individually portioned or whether they should be served by the bistro staff.
Staff
Offer to supply staff for lunch service. These staff could be your own who work on a temporary basis for your outside catering events that would be keen to work a few more hours each week. There again you could offer to save them the time of searching for food service staff by using your own contacts in from your catering services. If you use staff for weekend wedding catering you will have a useful data base from which to start.
Advertising
Remember that every time you supply food to another outlet such as a wine bar or bistro you should endeavour to promote your own catering services. If you supply china plates and bowls have them printed with your own logo. Offer free napkins and have your name printed or embroidered onto them.
Menu cards with that week's menu clearly shown plus your own details will be a good way to promote your business and obtain new customers for any other catering services that you offer.Remember also to provide a poster for the bar advertising the fact that they now supply food and add your name as the supplying company.
Nerve
With just a little thought and the nerve to approach wine bars and bistros that you think would benefit from your catering services you will expand your own business and provide a valuable service to other small businesses in your area.
You might also like...