Catering for a Tea Room or Cafe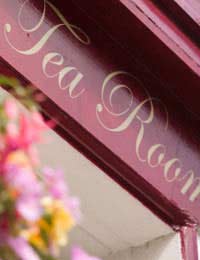 Many people have the dream of owning a tea room or cafe where they can supply tea and cakes or other delightful meals in pleasant surroundings. You may not yet own your dream catering establishment but why no consider supplying a tea rooms or cafe with your home made food? This could be a start in the catering business for you while you plan your catering establishment
Research
Visit catering establishments such as tea rooms and cafes in the locality that you feel you could cover. Go incognito and taste their wares. Make notes of how you think they could improve the products they serve, but not in front of the staff. Once you are home make a small menu plan of food items that you feel would be suitable for the cafe or tea room and calculate the cost.
Menu
Do not make an extensive list of meals that you could supply as your prospective client could take offence thinking you are insinuating their establishment is not up to scratch. If you think that their cakes and desserts are either depleted or not as attractive as they could be make a menu of just these items. There again if it is a cafe selling mass produced pies why not make a tempting menu of homemade pies both sweet and savoury?
The Contract
Do not swoop into the tea rooms or cafe and fluster the owner. Telephone them first for a preliminary conversation and then make an appointment for a visit, making it as informal as possible. Take with you samples of your wares along with prices and delivery details.
Start by offering small amounts of items that can be delivered either daily or when required so that the customer is eating fresh cooked food. Remember to have an agreement made up that states prices, order details and payment deadlines.
Seasonality
Be aware of the seasonality of fresh produce and use this to your advantage when offering your catering service. Also make a point of saying that you can deliver extra food that the cafe or tea shop owner would not have time to prepare when they are busy during high days and holidays. If the tea room is attached to a visitor attraction or is by at the seaside they would be glad of reasonable food, delivered fresh each day and at a good price.
Staff
Offer to provide temporary staff to cove holidays and busy times, including yourself as a member of the team. The staff you provide should be known to you if possible. If you advertise for staff check out their references carefully as they will be working in a business where hygiene is of paramount importance, they should have waitressing experience and hold an up to date hygiene certificate.
As the staff will be working with money they should be honest and trustworthy.Include yourself as one of the staff as his will give you experience of working within the environment of a cafe or tea room. You will then find out if you would enjoy owning your own catering establishment eventually.
You might also like...