Catering Trade Fairs: a Good Thing or a Bad Thing?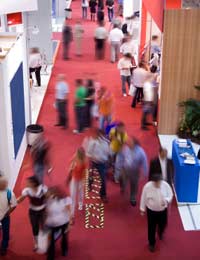 The catering world seems inundated with trade exhibitions these days. Is it a good idea to exhibit at these events or simply attend and watch what is happening in the business world?
Trade exhibitions
Every publication as well as individual organisations seems to be involved in trade exhibitions. They may be devoted entirely to your line of business or perhaps just a small part of your expertise. When starting out in business it is worth attending those that appeal but remember that your business still needs to be operational in your absence and attending such affairs can be costly in monetary ways as well as your time. There is often a discount for booking early for larger exhibitions. If staying over remember that the budget hotels book quickly so plan ahead. Train travel can also be booked cheaply so it is worth investigating fares ahead of the event. Check the organiser's website to see how many people attended their previous year's event. Does the write up in the trade press tell you it is worth attending as a visitor or indeed as an exhibitor?
Lectures
A popular theme at many trade exhibitions is the micro lectures where for fifteen to twenty minutes you are able to listen to an expert talk about their business. Book your place as soon as possible, don't wait until the day as these talks can be oversubscribed.
Networking and appointments
If you plan to meet up with sales people or clients plan your diary carefully so that you do not miss timed events when meetings run over. Find time to stop and see what your competitors are offering and especially what they are charging.
Special offers
Take advantage of special offers at trade exhibitions and sample new products. This is the time to see what new innovations are available to those working in the catering business. Do not be pushed into placing orders for goods you are not sure about. Ask for a sample to try in your business or the loan of equipment prior to purchase. If you are prone to being gullible at such events leave the cheque book at home!
Exhibiting your company
As soon as the world knows you are in business offers to purchase space at trade shows and exhibitions flow in. At the end of the day you want to have taken deposits for your service and have met prospective customers as well as let them sample your wares. Pick an exhibition company that will furnish you with a list of visitors to the exhibition. This is something that is now available to exhibitors at such events as wedding shows. These lists give you the opportunity to send out leaflets and offers long after the event.
Cost
To have a stand at a trade fair can be costly. How many bookings would you have to take in order to show a profit? Remember that staff would have to be paid as well as overhead, such as food sampling if it is on offer. Leaflets and handouts need to be printed and all this can add up to quite an expense. Can your business afford it?
Leaflets
Some organisers of trade fairs and exhibitions offer goody bags to delegates. For a small cost they will insert your brochure into each bag. This could be a better option than spending a small fortune manning a stand for the day. It can be hard work and it can also be soul destroying if for some reason your business does not attract passers-by.
Samples
On the subject of free samples make sure your stand is not targeted by the world and his children to offset their lunch. Arrange your staff so that genuine customers are able to talk about their requirements before they are offered a sample of your goods.
Special offers
A special offer at a trade event can bring customers flocking to your stand. Never try to be clever and undercut fellow exhibitors to the extent you are losing money. £100 off a wedding booking or perhaps free starters for 50 guests if the wedding or party is booked that day and held in a quiet month looks appealing and will make a passer-by stop and talk to you even if they do not qualify for the offer.
Be friendly
Have you ever been put off by a bored staff member or indeed a snooty staff member? It is possible to lose custom by your staff not being friendly. Make the day a happy event, have wine and nibbles for your staff so they will work hard and enjoy themselves. Happy catering staff makes for good business.
You might also like...