Networking in the Right Sectors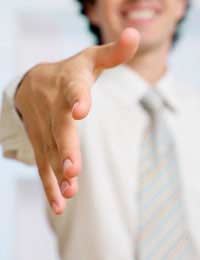 Business networking seems to be part of the day to day life of a business person. Catering is no different to any other business and business networking should be undertaken to further the business. However, it is important to network within the right sectors otherwise the business will not benefit from the networking events.
Business Networking
There are many different ways to carry out
business network
ing. You must remember that it is not an excuse to escape work and have a few rounds of golf or drink yourself stupid in the name of
business network
ing. Golf is fine if it is with suppliers or people who can help promote your catering business or perhaps put work your way. You will find that representatives from catering suppliers will want to ply you with good meals and interesting outings in order to take your money and have you sell their products. Do you need these goods or are you simply out to enjoy yourself? Be choosy with whom you socialise as it could affect your catering business.
Local Groups
Local business groups are ideal places to start your
business network
ing skills. Quite often they have breakfast meetings so that you are able to let to your place of work without eating into your busy day. These
networking event
s are handy as you will be able to let other local businessman know about your catering business and will hopefully gain future business from them. Another aspect of these meeting is that you will get to meet local councillors and politicians who have the interests of the area that you work in. You will be made aware of any changes to local situations and possibly have a say in the future of your locality.
Local business networking groups also invite speakers from other walks of life to talk to members about their businesses which could help your own catering company.
Industry Groups
Within every industry there are associations where it is possible for
business network
ing. You can meet important people within your own trade and find out what is new in the world of catering. Membership of such organisations usually means that there will be social events to attend and area groups to meet. Also larger trade associations have facilities for staff training and discounts for use in other parts of your life such as health insurance and discounts on computers. You may be invited to sit on a committee within the networking group which will further your knowledge of your trade and also further your business connections.
Charity
Another part of
business network
ing is that there will be fundraising events for charity. This is your chance to support those less fortunate as yourself. It may be a children's charity or perhaps a local hospice. Get your staff involved in the charity work as his will not only encourage your staff to network amongst themselves but also to take pride in the company they work for and be part of a team. Ultimately
business network
ing is to help your own business and should not take you away from what is important in your life.
You might also like...