Promotion at Trade Stands and Exhibitions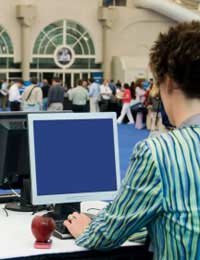 Promoting your catering business is an ongoing exercise and should be at the forefront of your future planning. Trade stands and exhibitions are a good way to find new customers and promote your business.
The Right Exhibition
You need to make sure that you are taking a stand at the right type of trade exhibitions. There are many exhibitions throughout the year and they can be expensive places to take a stand especially if no one purchases your goods or books you for an event. You would have visited exhibitions during your years in the trade so approach the organisers for details of their fees.
When booking a trade stand you must ask what exactly you get for exhibiting at trade show exhibitions. Most exhibitions offer the stand holder a complete stand with a name board and lunch for two people who are there working all day. You should also have a listing in the trade exhibition's catalogue where you can give an outline of your company's services and details of your website and contact numbers.
Overseas
Although it may not be possible to take your food to European Trade Fairs or indeed International Trade fairs it is still possible to have your company's presence made at such events. Overseas trade exhibitions could be your way to show what is available if clients travel across the channel to the United Kingdom. Target companies who attend sporting events and perhaps arrange a corporate event where your catering company can supply the meals before or during the events. International Trade fairs and European Trade Fairs are ideal places to network with colleagues from other countries, find new foodstuffs and see what the opposition overseas is up to.
Trade Show Exhibitions
Approach trade show exhibition organisers from trades other than catering and see if it is possible to have a stand. By introducing your business to other companies you will may pick up corporate business or be able to cater for outside events that they organise. You may also find that your catering company is able to cater for trade exhibitions thus earning money whilst you are at the trade exhibitions.
Promotional Gifts
When having a stand at trade exhibitions make sure your brochures are eye catching. Stock up on business cards and ensure that there are enough knowledgeable staff on hand who will talk to interested visitors and promote your business. Contemplate handing out goodie bags at trade exhibitions that hold your company information and also some free gifts for the visitors. It may be some chocolate or a sample of produce that you sell in your catering business. Perhaps a pen, key ring or anything at all that will mean the potential new clients leave with your name on as many items as possible so that if they need your services they will have your details.
Champagne
Invite guests ahead of the exhibitions so they know you have a trade stand. Perhaps have a get together on the stand where you offer a glass of champagne and canapés to the invited guests. You need to make as much as possible from your time at the trade show exhibitions in order to gain new business and new clients.
You might also like...