Tracing Food to its Source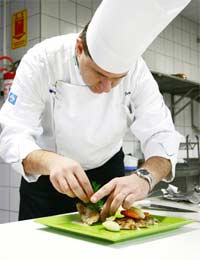 Regulations within the food industry state that any food stuff used in a catering business must be traceable to its source. How to be aware of food bought daily and how to keep records can be a headache to some business owners.
Regulations
The EU General Food Hygiene Regulations 2004 states new obligations to the suppliers of food. This includes restaurants and caterers. The regulations are straight forward and for any honest caterer have always been followed. It is no longer permissible to put food on sale that is unsafe. This would include out of date food and food that has not been stored correctly. The labelling, advertising and presentation of food is not to be misleading to customers. Finally, all food has to have a traceability record which means that records must be kept more vigilantly than in the past.
Traceability
From 1st January 2005 all food companies within the food sector must keep records of where the foodstuff originated be they wholesalers, primary food producers such as farmers, wholesalers and caterers. A caterer should be able to give information on (say) a fresh chicken, what day it was purchased and where it was purchased from. By having a complete traceable record of the foodstuff if there should be a problem with contamination and illness with a customer the food can be traced to its source. The keeping of records on all food purchases can be a headache for the small business owner but the end result is that he or she is protected if a contamination incident should occur.
Records
When logging each invoice from a supplier the items listed should be labelled with a reference number for the corresponding invoice. If the caterer or inspector needs to check back they can simply take the reference number and cross reference it to the sales invoice which will give the date of the purchase and the name of the wholesaler or producer. When staff are labelling the purchased food it is the ideal time to check sell by dates have not been overlooked when the stock was purchased. If food is delivered by the supplier the delivery date should be added to the invoice if there is a difference in the date. The caterer's records can be inspected by the environmental health inspector at any time. The caterer does not have to record which customer consumed the final food product.
Rotation of Food
Caterers and staff should also continue to use stock in rotation and never store new stock in front of old in refrigerators and freezers. For caterers who work with fresh produce these new regulations will work easily within their establishment. For caterers who buy in bulk and store food for long periods there may have to be changes within their purchasing system.
Retailers
Retailers of foodstuffs will not have to keep records of sales to consumers of the products. However if they supply to the food trade they will have to follow traceability requirements.
Implementations
If the rules are followed methodically by the caterer and staff they will be able to implement the new procedures with ease along with other food storage and hygiene regulations.
You might also like...