Safe Food Preparation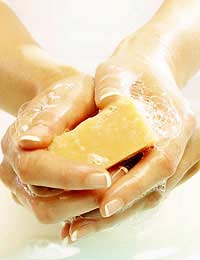 Staff involved in food preparation in the catering trade should be aware of all hygiene rules and regulations regarding the workplace as well as personal hygiene considerations. Employers should train staff and ensure where possible that they train for and pass food preparation and hygiene diplomas.
Personal Cleanliness
Staff should wear clean clothing and have washed their hands before touching any food, hands should be washed and dried after visiting the toilet and again when waste materials have been handled. The supervisor should be notified if the employee has stomach or bowel trouble or have skin, nose throats or any other infections. It is the law to notify employers of any infection or illness that could jeopardise the catering business. Cuts and broken skin should be covered with a waterproof dressing that is highly visible in the workplace. The plasters are usually blue in colour so that they stand out at all times if they should detach from the infected area. Staff should not wash their hands in sinks used for food preparation. A separate sink for hand washing should be available as well as toilet facilities.
Handling Foodstuff
Apart from personal hygiene staff should be aware as the basics of food care in the workplace kitchen. Any food that is reheated should be piping hot as any bacteria in the food will not be destroyed. Frozen and refrigerated food must be kept at the correct temperature as shown on packaging. All products should be logged so that the source of the food can be shown if an environmental health officer should visit. Staff should not eat nor drink in the work area or sneeze and cough near to food. If the face is touched at any time during coughing or sneezing hands should be washed. Raw meat should not come into contact with other food and should be stored in containers and kept refrigerated. Fridges should run at less than 5 degrees centigrade and freezers at minus eighteen degrees centigrade. Thermometers should be present in freezers and fridges and checked regularly.
Clothing
Hair should be tied back under hats and nets so that loose hairs do not make contact with food during preparation. Overalls and protective clothing should not be worn outside of the workplace and should be laundered frequently preferably by a laundry company hired by the catering business. Nails must be kept short and well scrubbed. Jewellery should be worn at a minimum as not only can it hold bacteria but can drop into food.
The Workplace
Work surfaces should be kept clean at each stage of food preparation. Food waste should not accumulate within the workplace as it will attract vermin and flies and could cause accidents if not placed into bins safely. All waste should be placed outside the workplace by the end of each working day and secured until collected. Walls and floors should be washed after all surfaces have been cleaned at the end of the working day using products suitable for a commercial kitchen.
You might also like...