Fire Safety in a Restaurant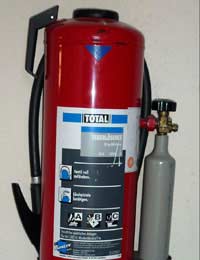 The risk of fire in a restaurant is quite high. It is not just the ovens and flames from grills and hobs that are the danger but the amount of electrical equipment and cleaning fluids that could ignite if handled without care and attention. The owner of the restaurant has to ensure that not only are customers safe when on the premises but the staff are fully aware of procedures should a fire break out as stated in the Regulatory Reform (Fire Safety) Order 2005
Customers
Customers should be able to see to see clearly marked exits and hear an alarm if it should be triggered during the evening. Staff should be able to escort older clients to safety and there should be space for customers in wheelchairs to exit in safety.
Staff Training
Staff training should be held regularly and fire safety should become a regular part of their training. Try to have the fire alarm go off at unknown times (preferable when the restaurant is closed to the public) so staff are conversant with the sound of the alarm and what they are expected to do. This practise will help them keep calm if a fire situation should arise while they are on duty. Staff should sign a document to agree that they have had training in fire safety. At no time should staff risk their own lives to fight a fire. Safety and evacuation are their main concern.
Extinguishers and Sprinkler Systems
Water sprinklers should be fitted in a restaurant as well as fire extinguishers. There are several types of extinguisher depending on the type of fire.Fires are classed separately:Class A fires involve wood and paper. Class B fires involve liquids such as oil, paints and fat.Class C fires involve gases.Class D fires involve metals.Class E fires involve electrical equipment,Class F involve cooking oils and fats.
The types of extinguishers available are: water, foam, dry powder, carbon dioxide and a vaporising liquid fire extinguisher. Fire blankets are also available.The company that fits the extinguishers will also train staff in how to operate them and what each type of extinguisher should be used for.
Equipment must be inspected every year and the inspections should be documented. Portable extinguishers must also be fully loaded and ready for use.
Fire Warden
Assign the title of fire warden to a member of staff on each duty rota. This staff member should be fully conversant with fire procedures, evacuation and also the use of extinguishers. It will be the Fire Warden's job to have a register of who was in the building and to check that they have safely evacuated the premises if a fire should start.
Signs and Notices
Fire exits must be well signposted and visible if the room is in darkness or filled with smoke. A secondary lighting system would be advantageous as it would switch on when the regular power source failed.
Fire Service
A member of the fire service will visit premises and advise the owner on how possible fires can start in the establishment and what fire equipment should be readily available to staff.
You might also like...
@li - I have included a link on the European Guidelines for Fire Safety in restaurants, it should give you the information you need, or at least point you in the right direction.
here
.
StartACateringBusiness
- 9-Dec-14 @ 11:56 AM
Hi. I will open a restaurant in London. I do not know what Fire Extinguisher I should have in the premises. There are many Fire Extinguishers (Co2, Wet chamical, Foam, Water and so on). Someone say I need 2 Co2 Fire Extinguisher, one wet chamical and one water. Would you please kindly tell me what I need? Also, do I need any fire safy licence before opening restaurant in London? Please advise me. Thank you very much in advance. With best regards JUN HO