Catering Work Wear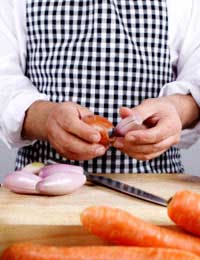 When running a catering business you should consider what your staff are going to wear while carrying out their duties. Catering staff need clothing and aprons that will protect their own clothes and prevent contamination of foodstuff.
Kitchen Staff
Staff working behind the scenes of your catering business in the kitchens must have clothing that is clean and washable. None of their own clothing should be visible in case there is the chance of contaminating the food. Hair should be clean and tied back if long. Hats or hair nets should be worn to cover loose hair and if staff have beards they also should be covered.
Front Of House
Front of house and reception staff should be dressed smartly and cleanly. They are the face of the business and as such should present a clean and efficient image. You and other management will set the standard of all staff wear by appearing smart and wearing suits if possible. Remember sloppy clothes give a sloppy attitude which will not enhance your catering businesses image.
Work Wear
Clothing for your catering company can be purchased form specialist work wear companies. These companies will also supply footwear and all forms of clothing needed for the catering industry. This form of clothing is made to wear well and withstand harsh use.
Laundry
All clothing worn by your catering staff must be able to be washed. Do not let your staff wear their work clothing home. Instead have a place where they can change into their outdoor clothing and the catering wear can be left for laundering. This will ensure that you have control of what is worn by your staff and that the clothing does not become contaminated and a threat to your business and customers. You can send the work wear off to a specialist laundry or employ staff to wash and iron the clothing in-house.
Uniform
To ensure that your catering company has a corporate image, why not design all staff clothing so that it is compatible in colour and style? Many work wear companies now have clothing ranges for catering establishments that runs through from front of house uniforms to outfits for kitchen staff and chefs. A colour scheme looks smart and adds an efficient air to your catering business. You will stand out from the rest and be more highly thought of by clients for having; smart as well as highly trained staff. Remember when choosing the design of your uniform that it has to fit all sizes and both sexes. Young and old must look good in this and there should also be variations in style for pregnant staff and those who require certain designs because of their faith or ethnicity.
Badges And Logos
Another way to show your corporate image is to have a logo designed for your catering company. This logo can be used on letter headings, menus, vehicles, websites, the sign board for your restaurant or kitchens and also staff clothing. Depending on the uniform the logo could be a discreetly embroidered initial on a lapel or emblazoned across aprons and overalls
You might also like...