Food Storage Options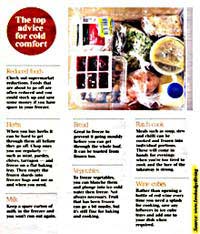 Food storage is an important part of running your catering business. If you and your staff do not observe hygiene rules when handling food you are likely to cause serious food poisoning amongst your customers. This is not only bad for business – you could be closed down but would not bode well for future bookings.
Dried Foods
Dried food should be kept at room temperature. All packets will have a use by date and this should be adhered to. Quite often we read of people who use out of date food and swear that they are not affected by doing do. However as a catering business owner it is paramount that you do not use out of date food.
Once opened all dried food should be stored in airtight storage boxes but remember to label them with the use by date and do not mix food with different dates – for example topping up lentils rather than let the container run out before refilling it. Containers should be scrupulously clean and washed before use. Never use cardboard storage boxes but washable plastic.
Raw Meat and Poultry
Raw meat and poultry should be kept clear of other foodstuff in the refrigerator. Never place it near to items such as ready cooked meats or ready to eat produce like fruit and vegetables. If meat is put into a refrigerator to defrost make sure it cannot drip blood onto other food items thus contaminating them. All food items must be covered in the refrigerator either with cling film or aluminium foil.
Foil and Cling Film
Foil should be aluminium and food grade, it will tell you on the packaging if it is the correct grade for food. Never cover fruit or other acidic foods with foil use cling film. When using cling film in a microwave ensure it is the right grade. The film should not come in contact with hit fat or other substances that will cause it to melt and contaminate the food.
Canned Goods and Leftovers
Canned goods have a shelf life and this must be adhered to. Once opened never put a part filled can of food into the fridge. Decant into plastic storage boxes and use within two days. When storing leftovers leave to cool and then cling film and store in a refrigerator.
While the food is cooling insure it cannot be infested with flies and bugs. Storage solutions can be easily overcome with a little thought and planning. With adequate shelving and refrigeration your stock of food can be stored with ease.
Fridge and Freezer
Keep the refrigerator clean at all times and wipe any spills immediately. The fridge should be kept at a temperature of no more than + 5 degrees centigrade. Freezers should be free from ice build up that will impede the efficiency of the machine.
Food should be stored at – 18 degrees centigrade or lower. Never over fill your fridge or freezer, the mass of food will impede an even low temperature. Ensure all food is labelled with a use by date and regularly check your stock for old unwanted foodstuff. The food standards agency can advise on any food storage solutions that may be a problem for your catering company.
Records
When running a catering company you have to keep a record of all foodstuffs, where it was purchased and when it was used. This can be done either in a ledger or on a spreadsheet. Cross reference the items against the invoice that can be found in your accounts.
You might also like...