Catering for Corporate Functions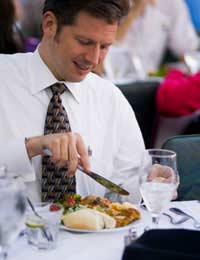 Catering for corporate functions covers a multitude of different occasions. You could be catering for ten people one moment at a small intimate dinner party and supplying bacon butties to thousands in a muddy field at a music festival the next. You may choose to start small rather than aim at the larger numbered events until you build up your catering services.
Business Catering
By catering for business events you will be able to liaise with the organiser and plan ahead for numbers, menu and the theme of the occasion. You may well move into this catering business after supplying lunches to staff or owning a sandwich bar in the locality.
Menus
The menu could be as simple as canapés and champagne, a lunchtime buffet or even breakfast food for an early meeting. This does not mean that you should cut back on quality.
You will require the services of a trained chef or cordon bleu cook to prepare perfect good quality fare. Study other companies and see what is normally required to make an event exceptional then work on that to make your own clients events even better.
Presentation
Presentation is of the utmost importance. Crisp table linen, polished silverware and good quality china will be required. If your catering company does not possess these items then it is perfectly normal to hire in the required items. Remember though to budget for these items when you prepare a quote for the client.
Staff
Your staff should be polite and smart. Ensure they are briefed before every event so that they know who to serve and how the menu is to be presented. Check their uniforms are clean and that their personal hygiene is not offensive. Face jewellery, false nails, and gum chewing are not acceptable in a catering business. You may have to hire in staff for special events so make sure they come from a reliable agency and are experienced.
Venues
It may be that a client asks your advice about a suitable venue for an important event. Look for castles, old buildings, a boat or perhaps a marquee in a local beauty spot rather than a local banqueting suite. When recommending a venue ensure that you are able to carry out your catering duties with ease and enquire if you have to hire in cooking equipment if the facilities are limited.
Themed Events
When a client requests your catering services for a themed event obtain detailed notes on what exactly is required of you. Will you have to decorate the venue, supply balloons, decorate the tables or supply an unusual menu? It may be that your staff has to wear fancy dress or perform certain duties. All this should be checked and double checked with your client long before the day of the event.
Corporate Catering
If your catering business expands into corporate catering you will find that the work is interesting and varied. If you can come up with unusual ideas besides providing perfect catering services for your clients your company will soon be very much in demand.
You might also like...