Catering for Parties in the Home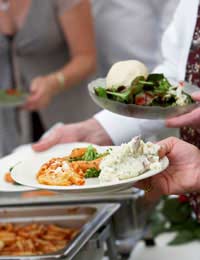 With more people cutting back on entertainment and staying home to celebrate family events the caterer must try to find a way of taking their business to the customer.
Services
Take a look at the service you currently provide. Could this be downsized and provided in a client's home rather than a larger venue? Weddings, anniversaries, children's parties and seasonal events can all be supplied to order for the client in their home. Many people are cutting back on the expense of major celebrations. With venues charging high fees and expecting the customer to also purchase food, drink, entertainment and other fripperies some people can no longer afford to celebrate family events in great style. Take a look at your menus and plan how they can be adapted to suit a family home and working from a family kitchen. Research the cost of hiring catering equipment just in case the facilities in the home are not adequate.
Extra Offers
As most events are of a celebratory manner why not consider offering other services. If a buyer can come to you for all their party needs then you will be a winner in the home entertaining stakes. Cake design, chocolate fountain, bar staff, flowers, seat and table covers plus balloons and table decorations, the business could all be yours if you plan right. If this is too much for your business to cope with why not work with other suppliers to offer a joint service? Promote each other on your websites and in your brochures for further business.
Marquees and Wet Weather Cover
One problem with home entertaining is that a large number of people have to be catered for and many will wander into the garden. Wet weather could ruin the event. Marquees and gazebos are the answer and smaller sized ones for gardens can be bought through local wholesale suppliers. To offer this service will be invaluable to the customer. Larger marquees can be hired from specialist companies along with flooring and even security guards to protect property in the marquee. Lighting and heating should also be supplied to the marquee. Ensure that a qualified electrician supplies the electricity to the venue and that any cables and wires are well hidden.
Patio heaters are ideal for outside catering and can be set around patio furniture so that guests are able to move around the garden rather than stay indoors. Some clients may be smokers so an outside area should be considered for their comfort.
Advertising
Look in your locality for homes with larger gardens that would benefit from your service. Hand delivering leaflets will bring your information to the door. Wedding and event exhibitions can be expensive places to have a stand so choose wisely, promoting at one large exhibition could be worth the investment and bring in enough booking for the following season.
Free newspapers that deliver to the area that you are interested in covering will be perfect for advertising as again they are entering the property where you intend to work.
Deposits
Take adequate deposits when leaving your equipment in a house overnight. Parties can continue into the night and your valuable equipment may be damaged. Insuring your property is also essential when hiring out your services.
You might also like...