Budget Party Boxes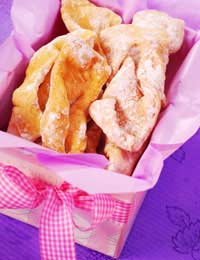 Every catering business must try to think of new services they can offer to their customers. When money is tight caterers are an expense that can sometimes be dropped so by offering a budget service clients may be retained and new ones found.
Advertising
This is a budget service so profits on each unit sold will not be very high. Any advertising expenditure should be watched carefully and not allowed to run too high. Flyers and email bulletins to existing customers is a good way to start.
The Box
The box used for the deliveries must be clean and presentable. It would not do to deliver food in a tatty box you took from a supermarket. If chilled foods are being delivered then an insulated box should be used but as the object of the service is to deliver one box and everything is disposable then to have to collect cooler boxes the day after the event would be a costly mistake. Your delivery person could deliver the cold food to the house and decant into the required box in your van before handing it over to the client.
Food
All food should be on disposable platters so that the client only has to remove the cling film covers. The menu can vary depending on numbers and requirements. Children's party organisers are very appreciative of instant food boxes as they are usually very busy organising the youngsters. Older clients may like spicier nibbles whereas teenagers enjoy pizza and burger type foods. Any foods that need heating should have a label attached to the tray with reheating instructions.
Disposable Tableware
A disposable tablecloth should always be included in the box as well as paper napkins. Try to keep the cost of the non-food items to a minimum so that more money is spent on the food, this is what the client will see. Items such as paper plates may not be needed if finger food can be held with a paper napkin. Use your ingenuity when visiting a catering wholesaler to see which disposable items can be used with minimum outlay without spoiling the final presentation effect.
Delivery
Determine the time of the party and make sure the box is delivered at the right time. Do explain to the customer that staff are not there to set up or to clear up afterwards. If clients want this service quote for staff hire.
Cleaning Up
Always include bin bags in the box and point out to the client that all items are disposable and do not need returning. If costing permits add a spray cleaner to the box along with kitchen towels so that any mess can be wiped away by the client.
Drinks
Why not offer a drinks box? It does not have to be alcoholic. Bottles of bright coloured fizzy pop and plastic glasses and straws are ideal for children's parties. Individual teabags, coffee, hot chocolate, fruit teas, sugar and sweetener are great for afternoon adult parties. Disposable cups should be solid enough for older finger to hold without being scalded and don't forget the plastic spoons. Fresh milk either in individual portions or in larger cartons completes the package.
With Budget boxes a caterer can be as inventive as their imagination allows.
You might also like...