Sourcing Foodstuffs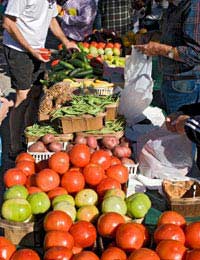 When starting your catering business you must have a reliable source for your foodstuff. Sourcing good quality food should be an important part of your working life as it is the focal point of your company and not having a regular and reliable supply of foodstuff will affect your business reputation.
Menu
If your menu changes a lot then you may have to search further afield for the right type of supplier of foodstuff for your business. When planning a menu make sure that you have a good source for the food before printing the menu or showing it to your clients.
To have to tell a client that your menu has been changed due to your unreliable food source does not bode well for future business with them.
Wholesalers
The main stay of a catering business is the wholesalers that are within travelling distance of the company's base. When applying to become customers of these wholesalers make sure that they are not open to the general public. A good food wholesaler will only deal with the trade.
Online
With the introduction of the internet it is possible to order your foodstuffs online and have them delivered direct to your catering business. However you will not be able to check the quality of the food or look at seasonal products.
Although the company you trade with will not want to sell inferior products it is down to you to see that you have the best possible food at all times for your clients.
Shop Local
There is more emphasis on shopping locally and being aware of your company's carbon footprint. Although it is commendable to think of your company's green image it is also important to think of the food quality and your profit margin.
By shopping locally does not mean buying from your local supermarket as this will not be good for your profit margin but looking to local foodstuff growers and producers.
Organic
To be able to provide good quality organic food is the dream of most catering companies. Yes, it is now more available but often at a price. You must be able to have a reasonable profit margin on your foodstuff so ensure that you are paying the best prices possible. Try sourcing your organic foodstuff locally so that you can negotiate with the grower and check on the quality at the same time.
Specialist Foodstuff
It may be that you serve specialist food stuff in which case your suppliers may be limited. Keep up to date with what is available by reading trade magazines, talking to other caterers and surfing the internet for new companies and suppliers. Attending trade and food exhibitions will also keep you abreast of changing trends in foodstuff and suppliers and help in your constant sourcing of good foodstuff for your catering business.
Special Offers
Take advantage of special offers from your wholesalers and suppliers by stocking up when possible. Unless you have a big booking or can use the foodstuff within a few days never over stock on perishable foodstuff as it will be wasted or beyond its best by the time you come to use it.
You might also like...