Using a Recruitment Agency for Your Catering Staff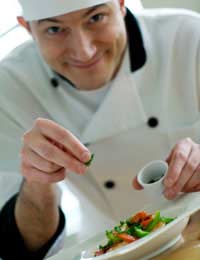 At a time when most businesses are keen to keep costs as low as possible, using a recruitment agency to find your catering staff may seem like a crazy idea.
With recruitment fees being anything from 7 – 20 % of the employees first year's annual salary, or an extra one or two pounds per hour for temporary staff, you may have already ruled out the idea of using a recruitment agency.
But is that really a cost-effective decision? Rather than just looking at the headline figure, it's a good idea to look behind the actual fee to see if it represents good value for money compared to recruiting catering staff yourself.
Let's start by weighing up your current potential for recruiting catering staff without using a recruitment agency. Who do you know? Who do the people you know know? What contacts do you have? How much time do you have available for speaking to these people anyway?
These are all important questions to ask, because it's all too easy to just look at a recruitment agency's fee and think, 'I'm not paying that! I'll do it myself instead.' But you do need to know if you are able to do it yourself, and what other tasks or opportunities you'll miss out on in the meantime.
The Benefits of Using a Recruitment Agency
Assuming you've found an agency, or certainly a consultant, that you feel understands your business and the type of catering staff you're looking for, now is the time to check out their fees and see what's the best deal you can get. Bear in mind that there is rarely a need to pay the first price they offer – after all, recruitment agencies are struggling for business too. Of course, the more you try to knock down the price the less they are likely to bend over backwards to give you great service next time, but if you can negotiate a price that's fair for both parties, it will be in both of your interests to keep working together.
Good negotiation tactics include making a deal for two or more placements (reducing the placement fee each time) or having a 'free' temp when making a permanent placement (this is when you are charged the actual rate the temp receives, rather than the pound per hour or so more the agency usually charges).
Using a professional recruitment agent that's on your wavelength can actually save you time and money. They will - or certainly should have - access to a strong database of potential staff for your catering business, and will be able to search through their candidates using keywords that suit you, such as location, skills, background, cuisine type and so on.
They will be able to send you CVs of prospective candidates by email for you to look at in your own time, and you can then arrange first interviews with people that match your requirements. Any that you like enough to have a second interview will then be contacted. Remember that right up until the stage that you actually offer a candidate a job and they accept, you will not have to pay a penny, unless you have agreed to pay in stages (after first interviews for example) but this is really very unlikely.
This means that all of the time-consuming legwork that leads up to actually finding a candidate that you wish to employ is free – and very little work for you. Think of the time it would take you to get together suitable candidates, liaise with them to arrange interview times and so on? You could be working on your business instead.
Downsides to Using a Recruitment Agency
Although recruitment agencies can have a bit of a bad reputation, and it's certainly true that many of them are more focused on meeting targets than getting the perfect match of employee and employer, but if you can find a good one they are certainly worth the money. A good recruitment consultancy is often actually more likely to be one good consultant within an agency, so it might be that if you find a consultant that you know and trust and they move to another agency, your custom will move with them.
But if you are unable to find a consultant that you really click with, the whole process can be made much harder. This is especially galling when the bill comes through for 15% of your new employee's annual salary! So unless you find someone that you feel understands the type of employee you need for your catering business, you may prefer to save your money and go it alone.
A common criticism of recruitment agencies is that they send over potential candidates that do not match your requirements, which ends up taking time away from your core business as you look through inappropriate CVs. The consultant should really visit you in advance of sending over candidates to see your working environment, understand the type of cuisine you offer and the level of skill required, so if they don't do this, try looking for another agency.
You might also like...