Staff on Loan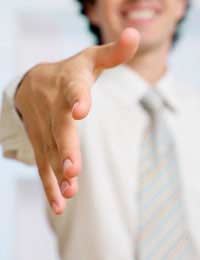 There may be times when your catering business is quiet and your staff members have nothing to do, or perhaps you wish to extend the service you provide within the catering industry? Why not consider hiring out catering staff as a way for your business to grow.
Cut Backs
Finding enough work for staff can sometimes be a problem at times when work is slow. One way to combat this is to cut staff's working hours. There may be some employees that wish to work part time or take a few weeks off, perhaps even retire early. Yes, you need staff when work is plentiful but to take someone on and not know if you will have work for them in six months time is foolhardy. Plan ahead to make full use of every employee rather than pay them to idle away the hours in between jobs.
Venues
Contact venues that have used your catering services and offer to hire your staff to them. If staff have skills such as silver service or bar work there will be a demand for them. To be able to hire your staff, who are known to be hard working and reliable is preferential to advertising and taking on untried staff.
Old Clients
Write to clients that have used your services for wedding and party events to let them know you are now running an agency if they wish to use trusted staff for home events such as dinner parties and family celebrations. Having someone to prepare food and wash up is a boon to a busy family. Advertising in local newspapers at peak times such as Christmas and special holidays will attract new customers.
Payment
If your staff are on your payroll then you simply pay them extra hours for the work they undertake. Tax and National Insurance contributions would be deducted in the usual way. If your employees are self-employed they will need to invoice you for their time so that you can show the work you have paid for in your accounts. These staff members will take care of their own tax payments but it is advisable to ask for proof of their self-employed status such as their registration for self-employment.
Happy Staff
One should never insist that staff do these extra duties, in fact make sure they are happy to undertake work that is not what they were hired for. Each member of staff should have a contract of employment. This may need reviewing and discussing with the staff involved before any amendments being undersigned. Explain carefully to each member of staff that this extra work is a way to keep them employed or to boost their earnings and most will be happy to cooperate.
Travel
Any members of staff that are sent to work away from their usual workplace must be recompensed travelling expenses. Try to ensure that they are not out of pocket for working away from home. Travel passes or taxi fares paid in advance are one way to keep staff happy.
You might also like...